I have the Rain, Rain Go Away Giveaway winner (chosen by random.org): Lindsey @
Lovin' My Life
! Email me your address and whether you'd like a circle or square
Shine Project necklace
!
Congratulations, woman! Also, people, don't forget to link up with Lindsey's
"Pour Some Summer on Me"
blog swap!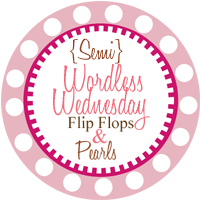 Now, I'm linking up for the first time with Daphne @
Flip Flops & Pearls
for Semi-Wordless Wednesday! Here's something you may not know about me. I think elephants are beautiful, intriguing creatures.
If you buy any elephant figurines or jewelry or photos, make sure the elephant's trunk is up.
It is a sign of good luck, fortune and optimism.
Remember, an elephant never forgets.
Elephants have female-led family structures and they are extremely loyal to the matriarch.
One of my dreams is to go on a safari and see these animals, free and wild.