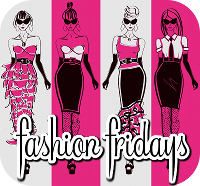 Today, I will no longer be a Fashion Friday virgin. Link up with Kori @
Blonde Episodes
.
Yesterday, I saw a girl wearing a super simple, yet summer chic outfit. And it's perfect for my vacation. Exhibit A:
Take a simple black maxi dress and add some bright and neutral hues. Easy peasy. Some maxis tend to look like potato sacks, so add a belt to create shape.
Now, I am craving some maxi dresses in my life. I have plans to hit up Old Navy, Target and Forever 21 after work, in search of the perfect black maxi dress to take on vacation with me.
Quick advice solicitation. I'm a Shorty McShorterton. 5'4". A pretty average female height, I'd say. Does a maxi just call attention to my short stature, or does adding a wedge sandal help balance out the length of the dress and my shortness?
Though I'm asking your opinion, because I trust you won't lie to me (we're friends, right?), I'm still probably going to rock the maxi this summer. I think you should too. Simple summer staple. End of story.