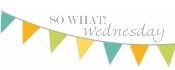 So what if...
My closet has vomited all over the spare bed. Or that I still haven't put away the clothes basket that Shawn so lovingly dumped on the bed for me. Or that the one basket is now two.
~
If I eat Ramen Noodles every day for lunch. They are $.15 or something stupid cheap like that. Someone actually complimented about how delicious it smelled today. Booyah!
~
If I'm already thinking about Halloween decor. Though I am always so torn between fall and Halloween decor. I think Halloween stuff is more fun, so it wins.
~
If my dad took all my credit cards and shredded them...all 10 of them (that's a bit redic, no?) They are paid off! Well, all but my Old Navy one, which I'm working on. Paid off half of it this month. Feel so relieved to be credit card debt free!
~
If I still consult my dad for financial advice. He's a frugal super savvy saving accountant machine. And he forces me (at finger-gun point) to hand over my credit cards. Probably one of the smartest decision I've ever made.
~
If I'm on my way to racking up over $30,000 in grad school debt. It will be worth it, RIGHT?!
~
If money was mentioned in four, now five, out six, now seven, "so what" nuggets. Money is the root of all evil in this world - but I'll spare you for now and stay off my soapbox.
Make it rain.
What are you saying "so what" to? Link up with Shannon @ Life After "I Dew"!