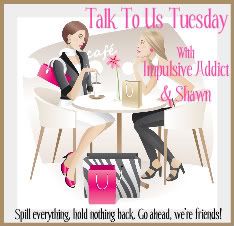 Today I'm linking up with
Shawn
and
IA
for Talk to Us Tuesday. So can we please talk about this festive, colorful pants phenomenon?!
They say every 20 years the style comes back, and I'm pretty sure I rocked some colorful skinnies back in the early 90s. No, there will be no pictures of my atrocious, seven-year-old style. Consider it an early Christmas gift from me to you.
So about these pants.
I've been pinning some cute, party pants outfits:
I have yet to actually take the plunge and purchase a pair of colored pants, let alone even try them on. I saw that Old Navy had some red and blues ones that piqued my interest.
I guess you never know until you try.
But I worry about buying something that is SO trendy, or that I may not wear enough to justify actually spending money on it.
My sweet friend
Christina
(go check out her blog - she's funny and completely adorable!) however has jumped on the party pants train, and asked me to help her come up with some outfits with which she can wear her LOFT teal skinnies.
Challenge accepted, duh.
I tried to come up with a variety of color combinations, as well as dress up, dress down and everything in between options. I could have gone on for days!
Putting this together really made me want to at least try on a pair of colored pants, and even try my hand at styling a pair IRL...on my own body. I guess they are like regular pants, just more fun.
Do you have a pair of colorful pants? If so, what color?