Though I'm sure you're all torn up about my absence this week, it wasn't you, it was me.
I love you all dearly, but homegirl needed some down time.
I guess I got a little excited about being done with this semester of grad school, and celebrated by doing literally almost nothing for a week. I barely rolled into work due to the excitement.
But alas, I shall grace you with my presence on one of the happiest days of the week.
So, let's catch up on a few major events - bullet-point style:
We bought a ThunderShirt for Kilah. She still barks but not nearly as excessively I'd say. We haven't tested her anxiety around new people yet, but I've heard good things about this. She doesn't appreciate us taking it off, so I guess she's a fan.
My in-laws sold their house (Shawn's childhood home) and bought a condo in Columbus close to us! They close on their house May 29 and move in early June. We're excited to have dog sitters and their cooking skills so easily accessible ;) And of course their fun-loving company!
My friend Kelley is officially a divorcee, and we celebrated last weekend. She even bought herself a "Just Divorced" cake, and my friends and I chipped in to buy her a bottle of Moet and a $100 gift card to Pier 1, plus my talented friend Karleigh edited a photo of Kelley drinking a bottle of Moet (on the dance floor, because that's how she rolls) that says "Drink like a BOSS" (a quote straight from the divorcee herself). So we popped that bottle of Moet in the bar parking lot because that's how you help a friend celebrate divorce!
I finished my first year of grad school! But summer classes start May 14, so my no-homework euphoria will be short-lived. But much appreciated and necessary.
And I'm linking up with
Ashley
for Friday's Letters!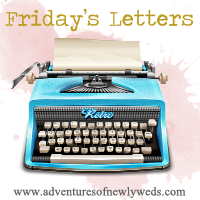 Dear Friday
, what took you so long?
Dear Life
, you're about to get hella crazy busy. Be gentle.
Dear Husband
, thank you for communicating. Hang in there.
Dear Personal Assistant
, are you EVER going to show up for work???
Dear Stomach
, you need an intervention! Gluttony is not flattering on you...or me. I can't keep watching you destroy yourself with cookies and cream ice cream. It's depressing. You need to get yourself under control. My bikini is counting on you!
Dear May sponsors
, you rock my little socks! Check 'em out on my sidebars, kiddos!
Happy Friday, silly heads!