a Rafflecopter giveaway
Christmas came early for you, sweet girl!
Thank you to everyone who entered my Christmas in July giveaway!
And THANK YOU to all the ladies who donated items to the giveaway!
I'll have another fabulous giveaway for you next week ;)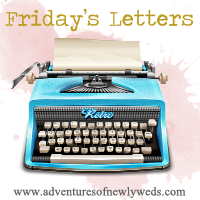 Dear Friday: I'm so glad I decided to take you off work today. We should do this more often.

Dear Football Season: Seeing all these commericials starring football players is making me very excited for you!

Dear Team USA: Let's tear up these Olympics!

Dear Tan: Please come back. I'm not done with you yet.

Dear Free Time: We will be reunited again next week!

Dear #YOLO: I used you, out loud, this week. I didn't hate it.

Dear Husband: Happy birthday. Again. I never know what to get your for your birthday, so I started by getting you Red Stag. I figure if I get you drunk you won't notice how long it takes me to actually decide what to get you for your birthday.

Dear Puppies: Can you both please get your shiz together?! All this eating the rugs, pooping on the porch out of fear of the neighbor, and incessant barking - OMG the barking! - is getting old. You're better than this. You're lucky you're cute.
Dear Long Weekend: I have so many plans for you. Let's hope Motivation shows up to help :)

This weekend, Shawn and I are going to see the Dark Knight Rises, a dinner party tonight and two cookouts. I also have errands to run, some shopping to do, some drawers that need cleaned out, two finals to do, a book to read, and cheer stuff to organize.
Bring.It.On!

Have a good one, love bugs!