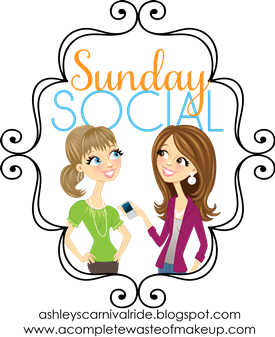 Happy lazy and social Sunday, sweet thangs!
I'm linking up with Neely and Ashley for Social Sunday!
Here are this week's questions and answers:
1. What is your dream job?
Travel blogger/writer.
But more realistically, a therapist/counselor for teens and young adults. And I'm working on making that a reality. Only a couple more years of school, two years of paid supervision and I hope that's exactly where I'll be :)
2. If you just won the lottery and didn't need to work for money, what would you do with your time?
Travel and blog.
3. What did you want to be when you grew up?
A vet.
I loved horses and dogs.
Still do.
Gotta love the little kid inside you :)
4. What piece of career advice would you give to someone just starting out in your field?
Work hard and be nice to others.
And make the right friends.
5. Biggest pet peeves?
People who drive under the posted speed limit.
People who don't say "thank you" when you hold the door open for them.
Morons.
When people don't use their turn signal.
People who think the world owes them something.
6. Greatest fears?
Something happening to the people I love.
Failure.
Enjoy the rest of your weekend, love bugs!