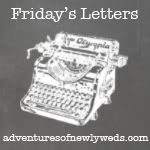 Dear 5:45/6 a.m. Workouts:
I don't hate you. You're actually very refreshing. Thanks for whipping me into shape.
Dear Halloween:
I am sad to say I'm not dressing up for you this year. I know, I'm bummed too.
Dear Political Ads:
You suck. Like
really
suck. Each and every one of you. I hate living in Ohio during presidential elections.
Dear Husband:
Thank you for cleaning/mopping/sweeping/doing the laundry/doing the dishes/grocery shopping and being you. You are amazing.
Dear Friends:
It's been too long. I feel out of the loop. I've been TOO busy. Tomorrow night, it's on like Donkey Kong!
Dear Blog Friends:
There are only a couple of days left to get 50% off all my ad spots! Even if they're booked, buy it anyway and your ad will go up as soon as there is space available. There's no reason to miss out on this deal! Go
here
NOW and use code FALL50. You're welcome :)
I hope you all have a great weekend! Stay classy in your slutty costumes ;)