Today, I'm sending half of my thoughts and prayers to everyone on the east coast who weathered Hurricane Sandy and are starting the clean up efforts.
I'm sending the other half to the sweet
Miss Chelsea
, her family and her niece, Liv. Chelsea's niece beat cancer earlier this year and now, she is fighting round two. She's only two years old. Life is so unfair sometimes :( So send Chelsea some love to keep her strong during this tough time!
And now, some facts: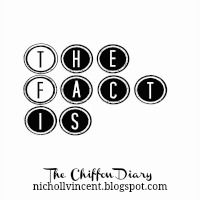 Fact: Tonight, I taught Shawn a lesson on pattern mixing. Totally schooled him :)
Fact: Sometimes I forget how lucky I am. The grass is greener where you water it, right?
Fact: I dislike the cold, but I love being able to dress in layers.
Fact: I have a very ambitious to-do list, but I seldom get much accomplished at night. Oh no, I think this means I'm becoming a morning person again!
Fact:
I just signed up for a 5K. In December. Remember how I dislike the cold? Yeah, now I'm just crazy. But it's for a good cause. I'm a sucker for a good cause. My friend
Stephanie
works for the Arthritis Foundation and they sponsor an annual 5K called the Jingle Bell Run. So yeah, I'll be there, Dec. 1, with bells on. Literally. There are Jingle Bell 5K events all over the country throughout the month of December, so find one near you
here
and sign up!