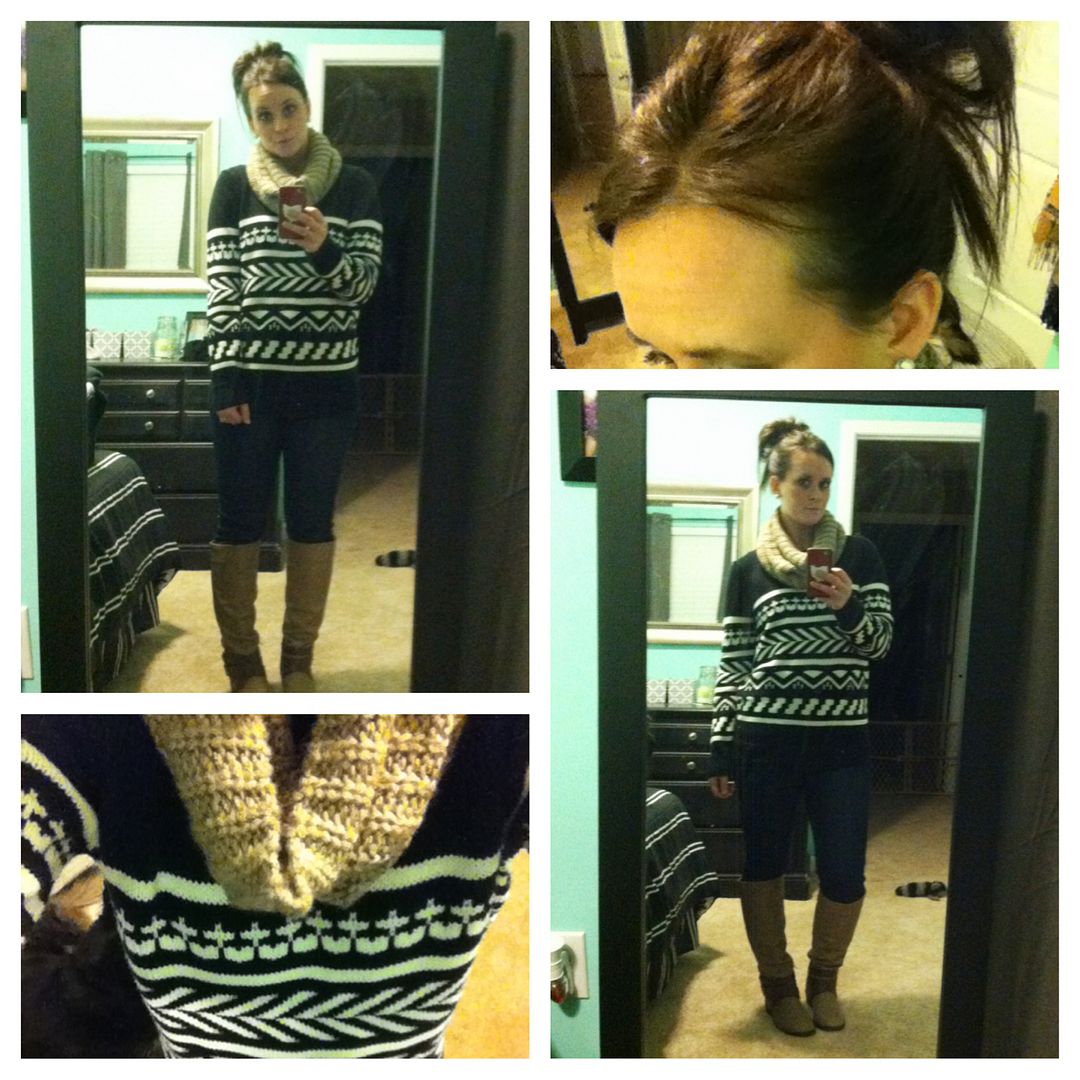 Can I just tell you about this outfit for a hot minute?
Best, most comfortable outfit EVER.
This sweater is amazing because it's so warm I don't have to wear a coat.
I could wear that scarf every.single.day. If you don't own a scarf from H&M, you're missing out. I haven't met a scarf in that store that I don't like.
And those boots - holy schmoly! All I have is love for them.
And my hair was pulling some sort of messy bun magic too. What?!
It's funny - I feel the best in outfits that are more comfy than super stylish.
I might just wear this outfit for the rest of the winter.
Oops, that's a lie. I have on a different outfit today.
But, believe you me, if that outfit was work appropriate I'd be wearing it right now.
That is the truth.
Want more of my clothing truths?
I'll just go ahead and pretend you said "yes."
But to feel better about myself, I'm putting "It's OK" in front of the following statements.
That most of my dress socks have holes in the toes and I keep wearing them.
That I become obsessed about outfits, like the one above, and will wear it every chance I get.
That I never repeat work outfits for at least two weeks. Who else notices when people repeat an outfit every week?
That I try on multiple outfits only to end up in the very first one I put on.
That I never wear mismatched socks.
That I don't wear pink - except for the three pieces of workout clothing I own which I wear least.
That I fight the urge to buy back ups of exact pieces I already own.
That I only buy neutral colored bras. I know - so boring. Poor Shawn.
That I avoid anything strapless.
What weird clothing quirks do you have?