1. Have your group wear a matching bright color (not that it will matter once you get muddy). Maybe not construction worker yellow. It was a pretty popular color.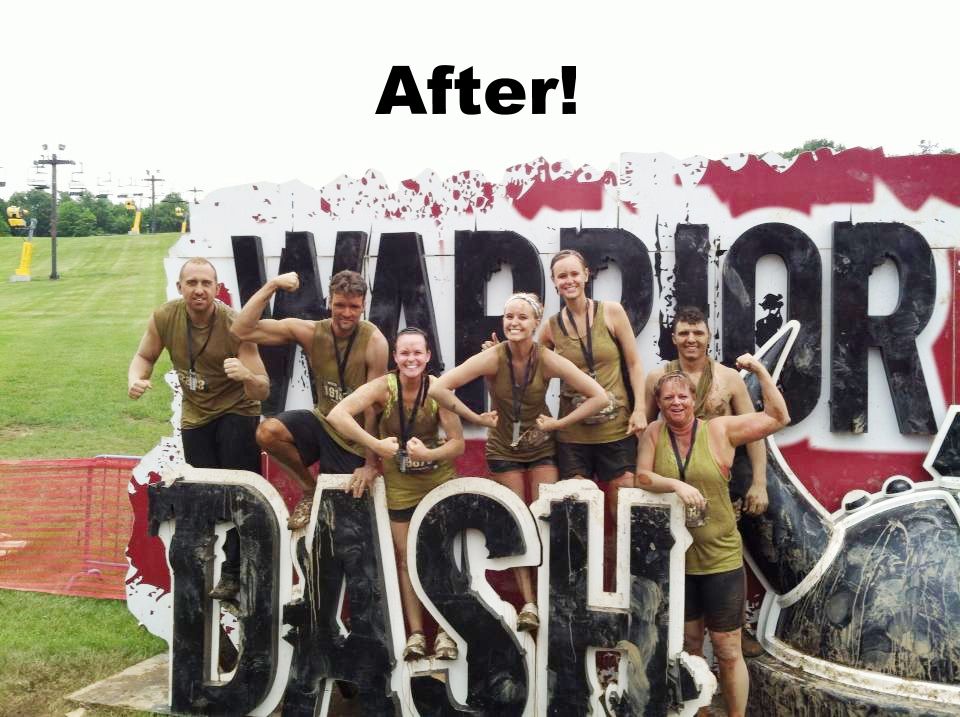 2. Take a before and after shot. And attempt to look badass-y in the after shot. This race was tough, you've earned the right to flex your muscles.
3. Hope for an ample-sized body of water nearby to rinse off in. There will be mud in places mud should not be, and no wimpy hose is going to do the trick. So run your little self into the lake like you're a lifeguard on
Bay Watch
.
4. Don't bother training (example: my sister - second from left - had a baby last August and hasn't worked out since being pregnant and she did just fine). It's mind over matter for this race.
5. Get muddy! I mean what the hell, right? Just be prepared to take a 30-minute shower when you get home. I'm serious. Mud will be e.v.e.r.y.w.h.e.r.e.
6. Donate your shoes. Trust me, you won't want them and it's for a
good cause
. But bring flip flops to put on because you'll most likely have to walk to your car through a gravel parking lot and end up getting a piggy back ride from your mom (thanks, Mom!).
7. Make sure to get your free beer at the end. You've earned it!
This weekend, my mom, sisters, my sister's husband and his best friend and my other sister's boyfriend ran the
Warrior Dash
in Butler, Ohio at the Clear Fork Ski Resort. We ran on muddy trails through the woods up and down ski slopes (all at the same time!) and through
10 obstacles
for 3.2 miles. 3.2 miles doesn't sound bad, right?! Well, when it's uphill for the majority of the time and the trails are so slick and thick with mud, let's just say my glutes are a little perkier since the race.
There are races across the country and every course is different. But it really is a lot of fun if you like a challenge (and feeling like a badass when you finish). I will be doing this race again fo sho! Anyone care to join me?!
P.S. Cbusers: Don't forget to enter below to win 1 of 2 entries to the Color Mania 5K on June 8 at the Columbus Expo Center! Courtesy of
Honest Tea
(see my review
here
). Winners will be announced on Wednesday!
a Rafflecopter giveaway